SLAVIC PRELUDE-The reviews
…. the spectacle inspired by the slavic calendar. It is a result of the fusion of three contrasting elements…
go back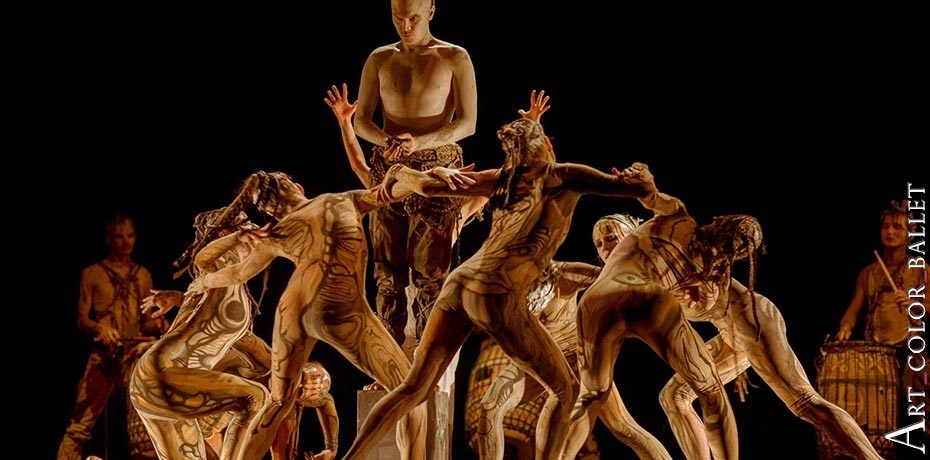 SLAVIC PRELUDE
The reviews: Katarzyna Misiuk
We left far behind forests and fields, above which white singing was rising from dawn till dusk.  There were different ones in time of sowing, different in time of harvest, other in winter when the life cycle dies to be reborn with first swallows. Far from smokes from bonfires on the Kupala Night and wreaths floating on water. Even further from "Gody" and "Dziady".
We lost contact with  the supernatural world, available to our ancestors. We became badly realistic, losing joy of living in community.
Obviously, we feel bad about it it, we try to resurect forgotten traditions, put a spell on relentlessly running time, get out of concrete ghettos, get carried away with magic of ancient dance and singing. For a moment, move to the world  partially imagined, phantasmatic, where eternal rhythm is marked by seasons, sunrises and sunsets, elements collide. The answer to this longing seems to be surprisingly popular musical, art and theatre projects. They are based on natural forms of expression, like 'spiewokrzyk', yet filtered by wide spectrum of the contemporary culture.
In this manner we have the latest proposition of The Ludowy Theatre in Krakow "The Slavic Prelude" – the spectacle inspired by the slavic calendar. It is a result of the fusion of three contrasting elements: dance group Art Color Ballet, drummers Wataha Drums and vocal sextet Strojone. Behind  their harmonious collaboration is a choreographer and director Agnieszka Glińska. Performance is a loose composition of thirteen dance – music pictures. Each of them represents different stage of changes in the year cycle, determining life of our ancestors, totally dependent from rhythms of nature. Artists managed to create and develop unique and intriguing language, based on movement and sound. Its influence is magnified by specific arrangement of the stage. There are no decorations, just props breaking nudity of the set. In the spotlights flicker the seed thrown up and falling down with characteristic sound. Stone hits the stone rhythmically, apples roll sparkling with all shades of red. A calabash becomes musical instrument , wooden stick – the drumstick. Sometimes you lose distinct division between dancers, players or singers. Making sounds out of the instrument called the rain stick becomes choreography, just like playing drums. In the Kupala Night the singers play the role of the girls observing the dancers, next they start dancing pulled by the pageant. Balcan song Vrbice, vrbo zeljena Đurđevdenova also reminds dancing when they emerge from behind sheer white fabric.
You cannot deny painters' imagination to Agnieszka Glińska who is an artist and film maker.
She shades her scenography paintings with a soft line and smudged spots or expressive contrast. She skillfully used a bodypainting technique, making it a scenic makeup. Thanks to her an actor becomes a part of the living picture. Fire is in conflict with water, masculine with feminine. After fun and games comes reflection, laughter after tears, death after life. In the harvest night apples roll on the floor, but soft stream of white feathers reminds about inevitable winter coming. Colorful pageant lit up the Kupala Night, but when it comes to Autumnal Dziady you can hear only sad crying of women covered in black clothes. Oneiric  Oj luli luli, zoriuszka wieczrnaja hovers over the spectators. When artist are bowing and choir comes to sing the last song, you want to dance and sing cheerfully da sam,da sam izvor voda ladna, ja bi' znala gde bi' izvirala…, but conventions which disowned the element of folk fun and play, make you stay in your chair. We went so far away from our Slavic identity…
tekst: http://www.teatralia.com.pl/category/katarzyna-misiuk/