Body Art & bodypainting workshop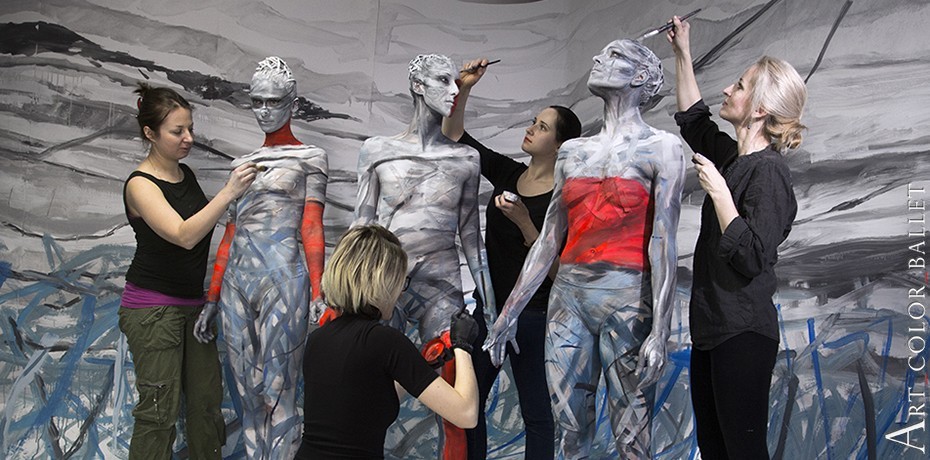 Body Art/Art Color Ballet workshops/Installations/Creating forms of animated painting
Working since 1998, we are a creative group working consisting of dancers, artists and choreographers. We have a proven track record of performances and projects of multimedia shows.
In 2011, we expanded our artistic activity to include workshops that have an educational character and encourage young artists to participate actively in the creation of performances, installations and body art shows.
The workshops are conducted by Art Color ballet artists: dancers, choreographer and plastic artists, and as a team connect dance, painting and acting.
Participants co-create three-dimensional forms of pictures inspired by themes of the chosen performance or participate in creating a scenario based on an author's ideas. Dance, acting, painting, scenography, costumes and body art are the basic forms creating our programme.
A very significant factor in the workshops is body art – a unique form of art expression, the aim of which is to achieve non-verbal, direct and emotional communication between an artist and recipient. Body art artists consider a person as an integral psycho-physical structure – a unity of body and mind. Such an approach allows body artists to be free from constraints and show new levels of the imagination. Connecting so many disciplines, body art creates new possibilities and stretches the boundaries of art.
The result of the workshops will be the acquisition by participants of practical skills and creative development in the field of dance, improvisation, interpretation of music, painting and body art.